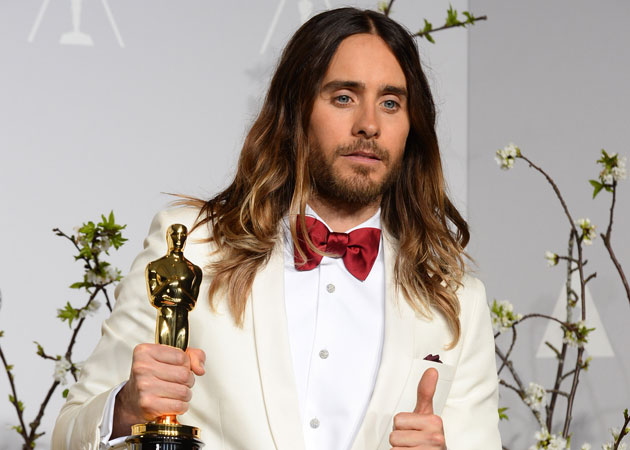 Ok, I'll try my best to get straight to the point, mainly because I'm legitimately confused. Apparently, the transgender community isn't happy about Jared Leto winning the Best Supporting Actor award for his portrayal of Rayon in Dallas Buyers Club. To my understanding, they would have rather seen an actual trans woman play the character and they weren't thrilled by the fact he didn't mention the community during his acceptance speech. With that being said, there's no way I could let this situation pass without saying something. So, here we go.
Now, I have two opinions on the matter. First, I can feel them on being dismayed by Leto's lack of acknowledgment. I mean, if you're going to act as someone who's part of a disenfranchised faction of the population, at least have the wherewithal to bring them up in a public setting. There's no more public of a setting than the podium at the Oscars. However, I feel like the trans community's gripes with a non-trans man acting as Rayon is misplaced. Honestly, actors act as characters they don't necessarily represent all of the time. That's called acting, son! Would it be better if an actual AIDS patient played Andrew Beckett instead of Tom Hanks in Philadelphia? How would that improve the movie? In this particular case, how would being transgender improve someone's acting ability? In addition, I'm fairly positive all trans women aren't alike and their common bond doesn't automatically make them like their peers. No community is a monolith and they shouldn't be treated as such. In my opinion, detractors are setting a dangerous precedent by saying Leto wasn't a "true transgender." On the real, what is a true transgender, exactly? Seriously, I'd like to know. I would like to think everyone would want to be treated as an individual. With that being said, why can't Rayon be treated as an individual and not as a spokesperson for the entire group?
In the end, all I'm doing is asking the question. If I'm missing out on some greater point, feel free to enlighten me. Side note, I'm not just saying that for the sake of saying it. If there's something I'm not seeing, please, explain it to me. Otherwise, I think people are up in arms for nothing, per usual. LC out!